The secret is finally out! We at Port and Polish really couldn't keep it in any longer. On April 1, we officially launched our Lilac pillbox. Yay! (Insert Geico's little piggy gif where it goes 'Weeeee, Weeeee, Weeee!')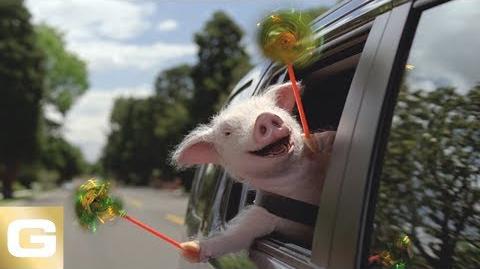 To properly introduce you all to the pillbox, we thought it would be fun to ask our Founder Megan Wan a couple of questions about what went on behind the launch:
Question: What was the reason for the newest pillbox color?
Wan: I've heard from soo many people asking for a purple box, so when it came time to pick a color for spring I knew this was perfect!
Question: How long of a process was it to choose the perfect shade? Can you give us some more insight into the process?
Wan: It took months! I spent a lot of time online, especially on Pinterest, building mood boards around different shades I loved. We wound up getting color chips from our manufacturer for the top three finalists, and we did some informal polling of friends and family who almost universally told us that lilac was their favorite one! So it quickly became one of ours, too!
Question: Is one of your favorite seasons Spring? And if so, what do you generally love about Spring?
Wan: I love spring! The longer nights, the warmer days, the trees and flowers finally back in bloom - I love everything about it (except the allergies!).
Question: Name 3 activities you love doing in the Spring-time.
Wan: We live right on the East River in NYC, so I love taking the ferry to Brooklyn with my son! Also, there are always these great juice trucks that return to the area with the warmer weather and there's nothing better than grabbing a watermelon juice with a little lime and sitting by the water reading a book.

Question: You are someone who loves the environment, which was why you were adamant about being BPA-free. How important is the commitment there with each new pillbox you create?
Wan: Absolutely. As a small business owner it's so important to try and bake sustainability into everything we do, which is why all of our pillboxes are BPA-free, plastic neutral, and shipped in 100% recyclable materials.
***here's a link to one of our former blogs on becoming "plastic neutral***
Last question: Are you always thinking about the next pillbox and the color it might be?
Wan: I am! We have another really exciting drop in the works for the summer, so be sure to keep an eye out around the beginning of July for some "sweet" news about our newest shade!